Weekly Round-up October 14th-18th 2019
Monday-Regular Classes
Tuesday-Regular Classes
Thursday-Regular Classes
Friday-Regular Classes and Top Dogs Favorite Color Day!
Cool Cats News-The cats had a great week learning about the letter G!!!! We practiced all kinds of words that make the G sound. We learned about goats, gorillas and grapes. We read (and LOVED) the Gruffalo book and made our very own Gruffalos!!! We also did a cool science experiment with grapes. Grapes sink in water, but will float in salt water due to the change in water density. We had the kids add salt to the water to see how a grape can float!!! We are also working hard on our songs for the Halloween performance! They are doing great learning the words and singing them loudly for all to hear!!
–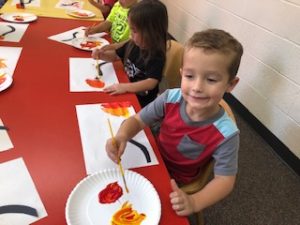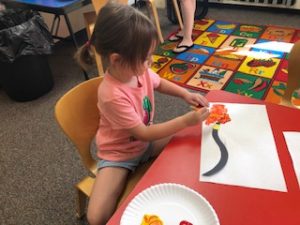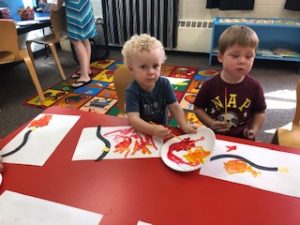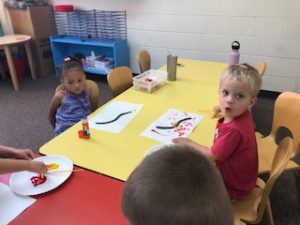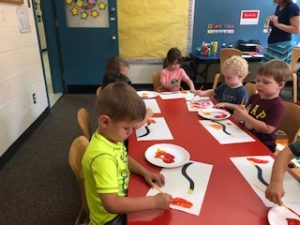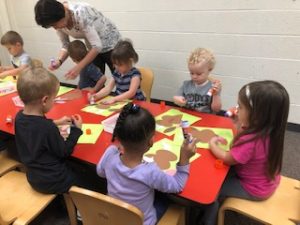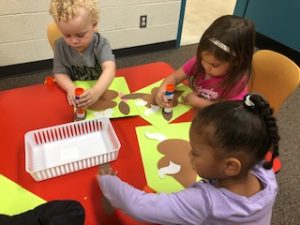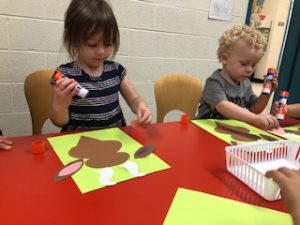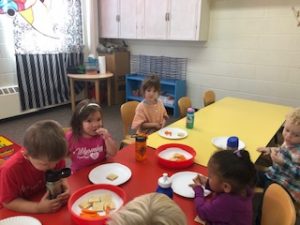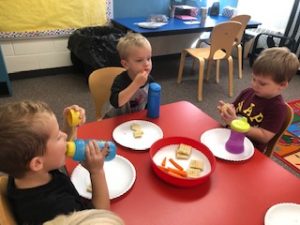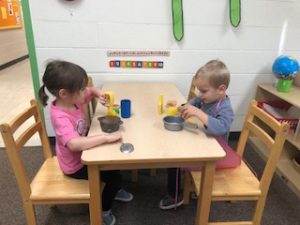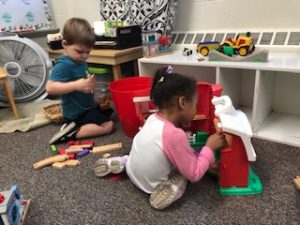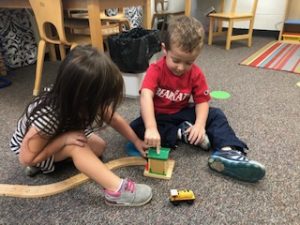 Playful Bunnies Class News:  
This week the Bunnies  learned all about the letter F. During art, we made
fish and added scales by stamping a slice of paint-covered celery. We
covered the letter F with feathers and finger painted fire on large paper.
We had a visit from our firefighter puppet who taught us about the letter F,
and we read a book about Fireman Small ( who saves Farmer Pig's barn). We
continue to have lots of fun finding and sorting eggs in our hen house and
taking care of animals at the sensory table.  We are also studying gourds,
small pumpkins, leaves and seeds at the Science Center.  It has been a lot
of fun to open milk weed pods and watch the fluffy seeds sail around the
room.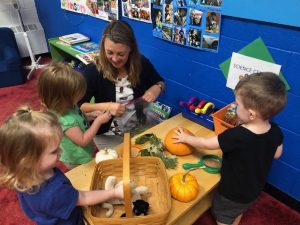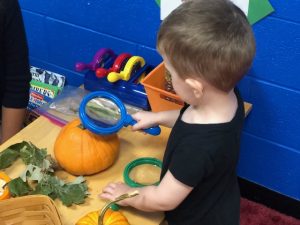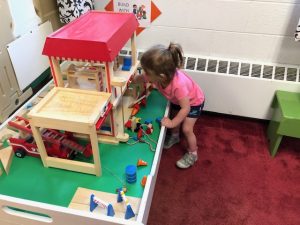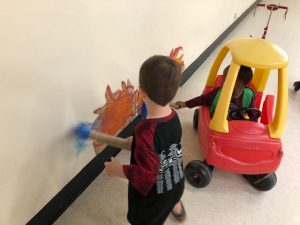 Top Dogs Class News:  For our letter F this week, we met Mr. Funny Feet and boy, was he funny!  Each day he told us a new Halloween  joke.  One day he gave us Fruit by the Foot and one day he let us on a hunt for an "F" pinata!      We learned all about the color brown and signs of Fall.  We also worked on learning about Fire Safety:  Stop, Drop and Roll, Never play with dangerous fire things, Crawl Low under smoke, When there is a fire get out and stay out, Go to your family meeting place, and call 911 in an emergency.