Weekly Round-up-November 16th-24th
Monday-Regular Classes
Tuesday-Regular Classes
Thursday-Regular Classes
Friday-Regular Classes and Top Dogs bring a square today!
Monday-Regular Classes
Tuesday-Regular Classes
Wednesday-Sunday-       No School-Thanksgiving Break
Monday-Regular Classes
Tuesday-Regular Classes-Bring in $1.00 for Santa's Workshop on Thursday!  All donations go to Valley Interfaith Food and Clothing.
Thursday-Regular Classes-Santa's Workshop for all classes!
Friday-Regular Classes and Top Dogs bring in a rectangle.
Top Dogs News:  J is for Jumbled Junk, Jello and Jellybean Jar!  This week we learned all about the letter J and the shape of a triangle.  We learned about Thanksgiving, Food Groups and continued learning about Autumn.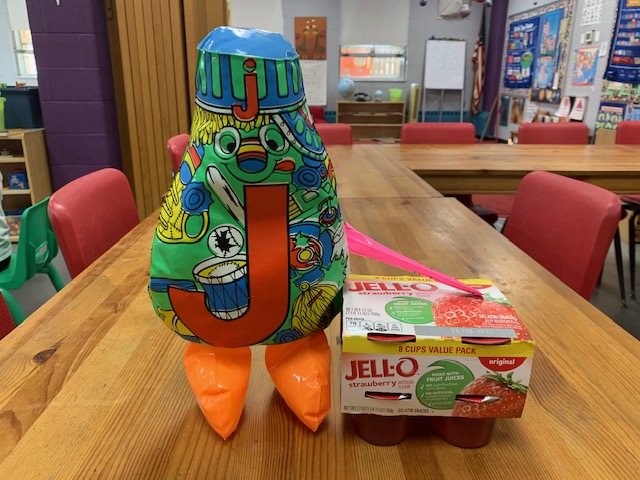 The Cats and Kittens had a fun week with the letter J.  We read a book about a jellyfish and his sea horse friend called Peanut Butter and Jellyfish.  We watched a short video of all types of jellyfish then used our handprints to paint jellyfish.  We read the book The Jolly Postman which is about a postman who delivers letters and cards to many fairy tale characters.  So, after we read Jack and the Beanstalk, we wrote a letter to Jack.  Everyone thought he was very brave!  After learning how to write a letter, the Cats and Kittens had fun writing their own letters and mailing them at our Preschool Post Office.  Elsa, Anna, and Olaf got a lot of letters written to them!  We learned the nursery rhyme Jack Be Nimble and everyone got a chance to jump over a "candle stick". The Preschool Ice Cream Parlor continues to be a hit.   Everyone loves making ice cream sundaes and cones.  Everyone is working on holding a pencil correctly and our older Cats are getting really good at writing their names.  Everyone is also learning how to hold scissors and make cuts on paper. Both the Cats and the Kittens are working on letter and number recognition.  It was a great week.