Weekly Round-up December 16th-20th 2019
Monday-Regular Class Schedule
Tuesday-Regular Class Schedule
Thursday-Pajama Day for all classes!  (Regular schedule)
Friday-Family Christmas Parties-10:00 a.m.  (No regular classes this day)
Office News-Please bring in your party supply donations on Monday or Tuesday of next week. Thank you so much for your contributions! Also, just a friendly reminder that the January tuition slips will be in your preschoolers mailbox when we return from our Christmas break.  When we get back from Christmas break, please let me know if you want a tax receipt for your 2019 preschool tuition. Thanks!!
Playful Bunnies News-It was another fun week of playing in our Christmas themed room! There have been a lot of blizzards at the North Pole block center and Santa's workshop is still full of boxes and bags and presents to open. We should all be pros at opening presents by the time Christmas gets here. : )  We used red and white beads to make necklaces, which took a lot of concentration, but was a big hit!  We've also read Christmas books, practiced our Christmas songs, played with Christmas cookie playdough and made some fun Christmas crafts – bow painting, shape Santa, and a Fruit Loop Christmas tree. All that and there was still time for Melissa the Mouse to join us on the circle rug to introduce the letter M with some fun songs and fingerplays about mice and monkeys.  Our letter box had a moon and magnets in it. We read books about a mouse, a manatee, and a moose (If You Give a Moose a Muffin.)  We had a great week and are looking forward singing our songs for you next Friday!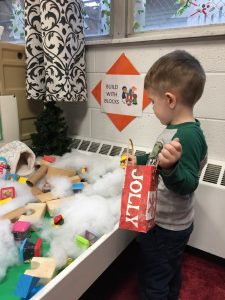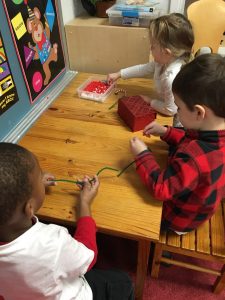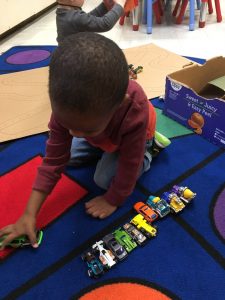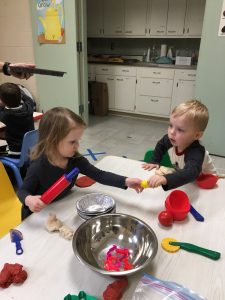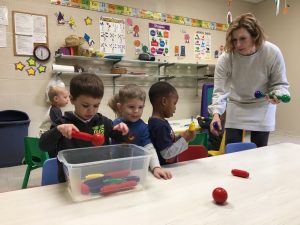 Cool Cats News-The Cool Cats worked on the letter O this week! We talked about the ocean, owls, octopus, and otters. They had lots of fun with different art projects to match!! We have been working hard on counting and proud to say that many of our cats are able to recognize numbers and so are even up to 15-20!! We have also been practicing for our Christmas performance next Friday! They are very excited about their songs! Reminder that Thursday the 19th is Polar Express Day at preschool and they can wear their pajamas to school!! Friday the 20th is our Christmas Part and we are looking forward to seeing you there!!!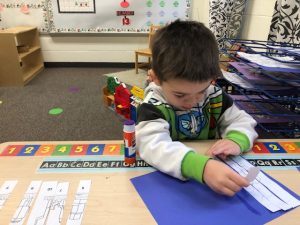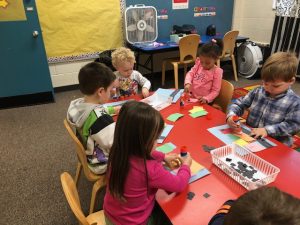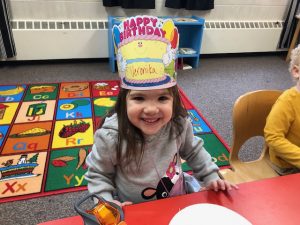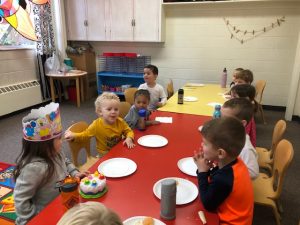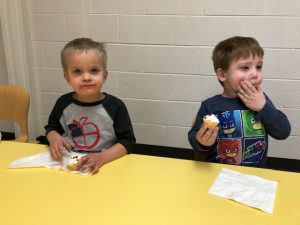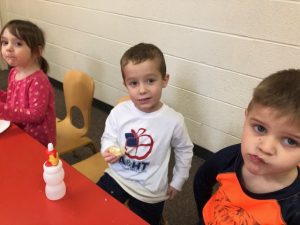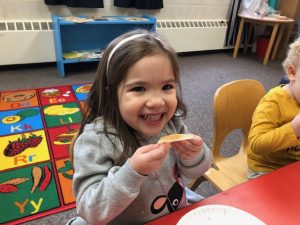 Top Dogs News:  This week was filled with "M" for Munch Mouth, Melted snowman milkshakes, getting ready for a Christmas pageant, the Grinch, musical instruments, magnets, singing Christmas songs, practicing for our Christmas program, oval lesson, Madeline's Christmas, the game "Fly Away", and much more!