Weekly Round-up March 2nd-6th 2020
Monday-Regular Classes and Bike-a-thon begins
Tuesday-Regular Classes and Bike-a-thon.
Thursday-Regular Classes and Bike-a-thon.
Friday-Regular Classes and Top Dogs-Bring in something that is a "sign" of your favorite season for "sorting".  Last day of Bike-a-thon.
Office News:  The reminders for the March tuition payment went into your preschoolers mailbox this week. It's the fourth and final payment of this school year. Yay!
Keep those preschool registration forms coming in. Early registration secures a spot for your child in the appropriate 2019/2020 class.
Next week we will be assembling the class quilts. If you haven't turned in your child's quilt square, please bring it in on Monday. Thanks so much!!
Playful Bunnies Class News: The Bunnies have definitely missed Miss Kristen this week, but have tried to make the best of it while learning about the letter R. We read, sang and talked about the colors of the rainbow – and made some colorful rainbows. We also had a lot of fun pretending to be robots and read a new favorite book, Boy and Bot. One day, our letter box even had a robot in it – very fun! We also enjoyed a book about a rabbit that likes to make beautiful art and music. Then we made our own beautiful art with markers (and practiced the skill of putting marker caps back on.) With the weather being cold and rainy, we've been in the muscle room a lot – so all of the Bunnies are ready for Bike-A-Thon next week. We'll see how many laps they can do!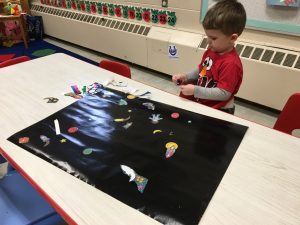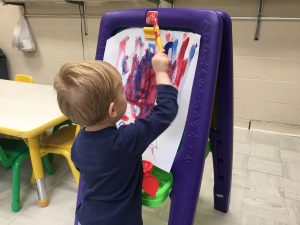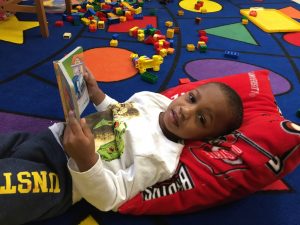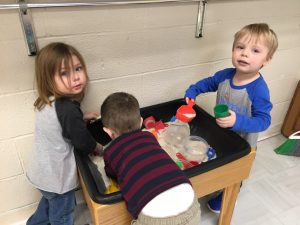 Cool Cats News:  The Cool Cats had a very busy week learning about the letter V! We started with a day of vegetables. We did a taste test between carrots and celery to see what everyone liked better! Check out the graph in the hallway for the results! We also discussed vultures, vases, and volcanoes. We made a real volcano in our classroom with baking soda and vinegar. To say the loved it is an understatement!!! They may be asking to make real volcanoes at home! We also worked on scissor skills by having the cats cut out their art project shapes. This was a first for them and they did fantastic. Even those that struggled with it did not give up! We are very proud. We are also excited about the growing Dr. Seuss hat in the hallway! The kids are so excited to hang up their reading strips and watch the hat get taller and taller! Our March snack calendar is up and there are several open spaces! Don't forget to sign up for your two spots so that your child can be special helper for the day as well. Thanks!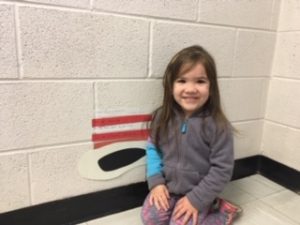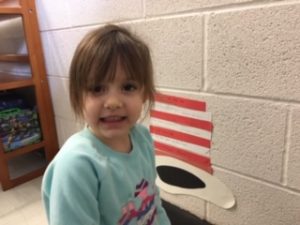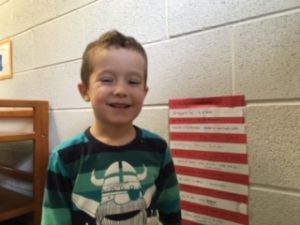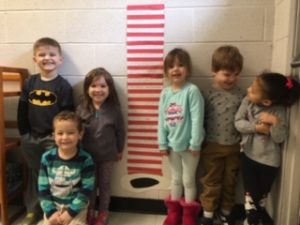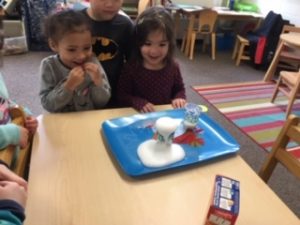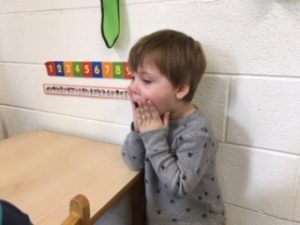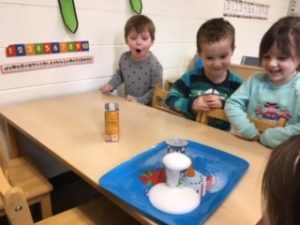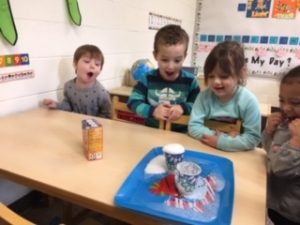 Top Dogs Class News:  This week we finished up letter "R", Ripping Rubberbands/Rainbow Ribbons.  We finished our author studies and Right to Read weeks.  We continued to learn about opposites and rhyming words.