Weekly Round-up January 25th-January 29th 2021
Monday-Regular Classes
Tuesday-Regular Classes
Thursday-Regular Classes
Friday-Regular Class and Top Dogs bring in 20 small things to count and eat.
Top Dog News:  This week we learned all about the letter "O"!  We also have been working really hard on counting out loud to 35 and one to one correspondence with objects.  Our goal is reach 20!  We also began working on our gross motor skills, such as galloping and skipping.  Next week, we will meet Mr. Pointy Patches the Party Planner!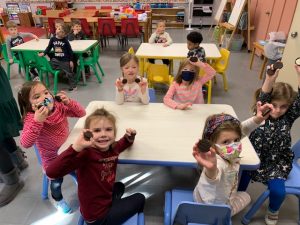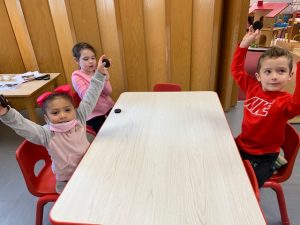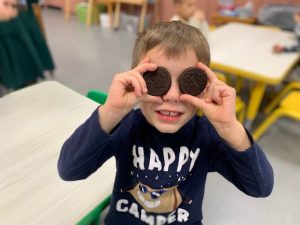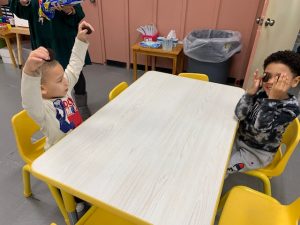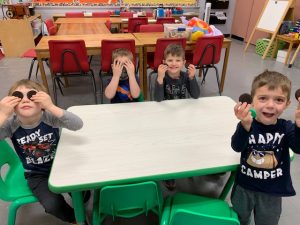 Cool Cats and Kittens News:  This week the Cool Cats and Kittens welcomed a new friend, Mila!  To meet the developmental needs of our older Cats and our younger Kittens, we are reworking our daily schedule a bit.  The Cats and Kittens are now separated for circle time and centers to allow for more age appropriate activities.  We will all still have a snack together and usually play on the playground together.  Sometimes art will be together and other times each group will do their own art activity.  Keeping the Cats and Kittens together for some of the day allows friendships between the groups and bonds between students and teachers to continue.  This week we learned about the letter P.  The Cats started a Sprouting Sweet Potato experiment. They are hoping to see roots growing on a sweet potato soon.  The number of the week was 15.  The Cats reviewed harder shapes like rhombus, octagon, pentagon, and hexagon.  Since all the Cats recognize their first names, they have moved on to learning to recognize their last names.  They are also writing their names on their artwork and activity papers.  The Kittens read books about pigs, worked on counting to 5 and one to one correspondence to 5.  They are also working on color recognition.  Everyone made peacocks, pizzas and painted muddy pigs this week.  A favorite activity was listening to a Pete the Cat book about a perfect pizza party.  After tasting pepperonis, we completed a chart showing who liked pepperoni and who did not.  We made a similar chart after trying pretzels.  The zoo is still open in our playroom and we added a pizza parlor.  Playing zoo vet is still a very popular activity but making, selling and delivering pizzas has been so fun this week!