Weekly Round-up September 27th-October 1st 2021
Monday-Regular Classes
Tuesday-Regular-Classes
Thursday-Regular Classes
Friday-Regular Classes and Top Dogs-Orange Day!
Playful Bunnies News-This week, the Bunnies started a new theme: Farm.  There is a hen house in the playroom where they can gather and sort eggs.  Some of the Bunnies even liked cracking the eggs and frying them in the kitchen.  There are barns, tractors and lots of animals for imaginative play.  The sensory table is filled with farm animals, small hay bales and small tractors. There was also a new letter this week: E   The Bunnies used paint to stamp ovals to make eggs for a nest and while watching a short video, learned about chicks hatching from eggs.  They also got to hatch their own little paper chicks from paper eggs.  They listened to The Ear Book and talked about all the sounds they hear at school.  Also, the Bunnies got to hear their favorite book Brown Bear, Brown Bear, What do you see? and use the felt board to sequence the story and work on color recognition.  It was another great week with the Bunnies!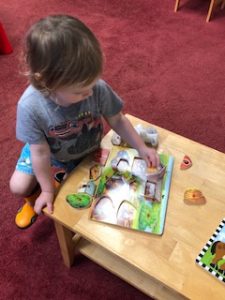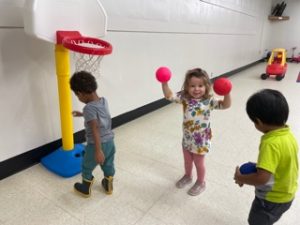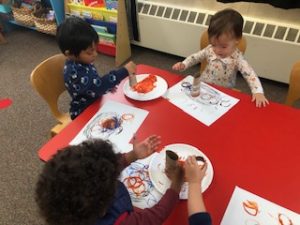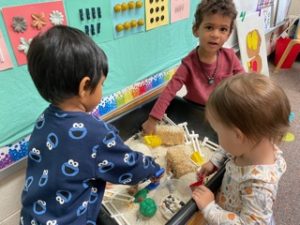 Cool Cats News-We had another fun week learning about the letter 'E' and the number '4'.   We read books about Elephants, Eggs, and Ears.   We also played a fun game finding 4 objects in the classroom and counting them together. We learned that our 'Ears' are meant for listening.  We practiced listening to instructions as we painted with our fingers.  The favorite was making tracks across the paper with our walking fingers!   Our playroom was transformed to a farm theme. The children loved the Hen House where the eggs were filled with yolks or baby chicks.   It was such a fun surprise to look inside the eggs,  crack them over a frying pan, and gather them into baskets and egg cartons.   Your kids have wonderful imaginations!