Weekly Round-up December 13th-17th 2021
Monday-Regular Class Schedule for Cool Cats and Playful Bunnies
Tuesday-Pajama Day for Cool Cats and Playful Bunnies
Thursday-9:00-Christmas Program for Cool Cats and Playful Bunnies.  Drop off your preschool pal at the playground and then head to the sanctuary.  Please remember to wear you mask!  
Friday-No School-Christmas Break begins…
Monday, January 3rd-Welcome back!  Regular classes.  
Tuesday, January 4th-Regular classes and Pajama day for Top Dogs.
Thursday, January 6th-Regular classes
Friday, January 7th-Regular classes and 9:20 Christmas Program for Top Dogs.  Drop off your preschooler at 9:00 through the playground and then head to the sanctuary. 
Office News-
Thank you so much for the donations to our Giving Tree. The children are so happy to donate the clothing items. If it slipped your mind, it's not too late to bring in hats, gloves, mittens, scarves, etc.
Please let us know if you need a preschool receipt for your 2021 taxes. I will try to get them completed in early January.
Show your love of A&HT Preschool!  Preschool yard signs will be available in January for anyone interested.  
Registration for the 2022-2023 will be starting in January.  
Please note, our preschool is a non-profit and our $$ losses from Covid have been significant.  If anyone would like to give an end of the year donation to the preschool, we would love it!  (We will give you a tax receipt.)
Cool Cats News-The North Pole has been transported to the play room at school and the 'elves' have been busy wrapping and shopping for gifts from Santa. Of course there is always time for the elves to play too!   We also learned about the letter M.   We read books and did crafts centered around Monsters and Manatees.   We had to use our listening ears to assemble our Big Green Monsters, they are adorable.   We brought out the play dough to make Christmas Monsters.   The 3 sets of Legos continue to be a huge hit in our classroom and offer endless opportunities for creative and STEM like play.   We even stamped letters with them in play dough.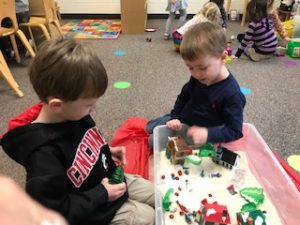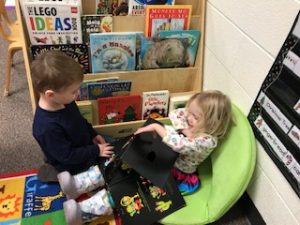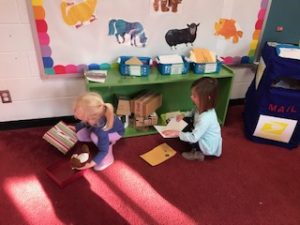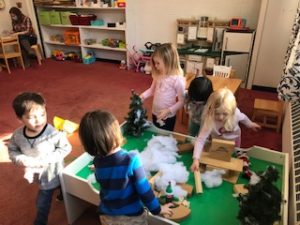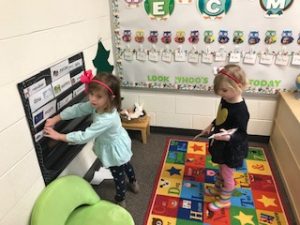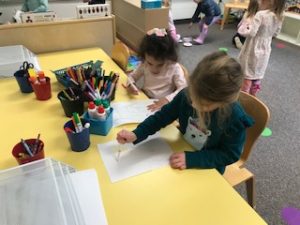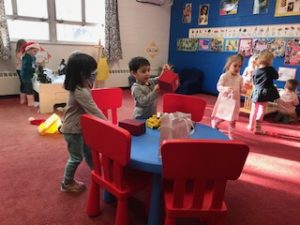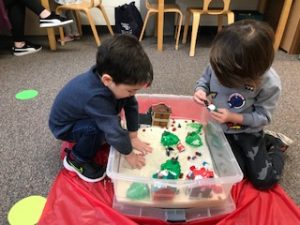 Playful Bunnies News:  The Bunnies are getting ready for Christmas! In our playroom, a new Santa's Workshop is lots of fun! We wrap and box up presents for all of our friends and deliver them around the room – lots of Merry Christmas to be heard! We also have a post office to write letters to Santa and send cards to our friends. Our block table was transformed into the North Pole with plenty of snow to add to Santa's house. After reading The Gingerbread Man, we had fun decorating and baking felt gingerbread men. Mary the Mouse joined us at Circle Time to introduce the letter M. We've read some mouse books and made a mouse craft, as well as some Christmas crafts. We're also busy learning some fun Christmas songs for our performance next week. It was a busy and fun week!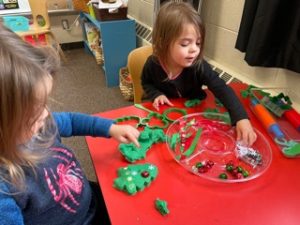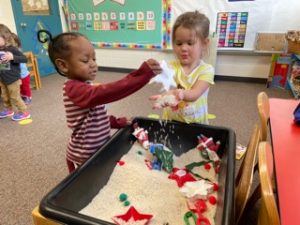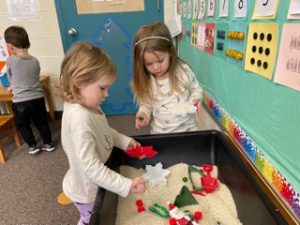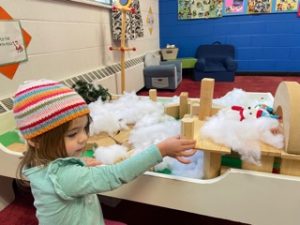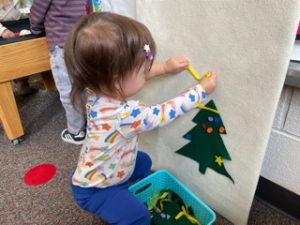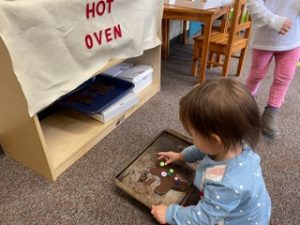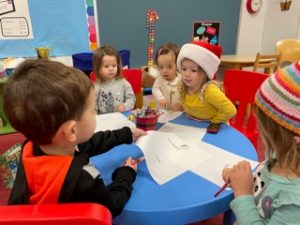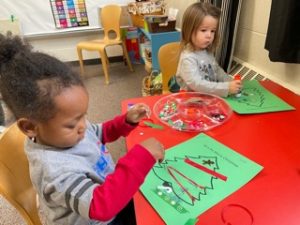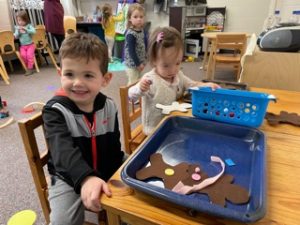 Top Dogs News:  We look forward to seeing everyone in January!