Weekly Round-up-May 1st-5th 2017
Monday, the 1st-Regular class schedule
Tuesday, the 2nd-Regular class schedule
Thursday, May 4th-Regular class schedule and MAY THE FOURTH BE WITH YOU!  Wear your favorite STAR WARS things today!
Friday, May 5th-Regular class schedule for Panda Bears, Friday Enrichment and Lunch Bunch. MUC class-MOTHER'S DAY PICNIC CANCELLED.  FIELD TRIP RESCHELDED FOR TODAY.  SAME DEAL AS LAST FRIDAY, EXCEPT WITH THE BUS GOING TO THE CORRECT SCHOOL!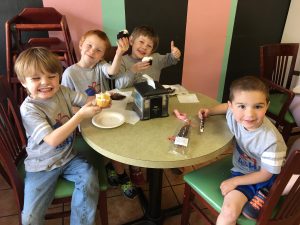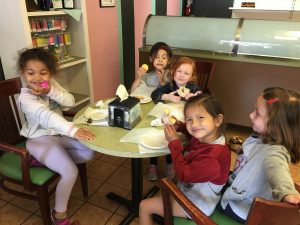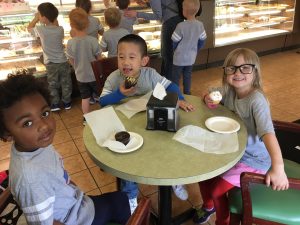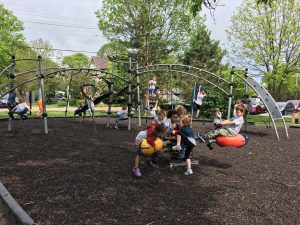 Preschool Office News-Please bring in any remaining tuition payments by Friday, May 5th. Thank you so much! Summer camp is right around the corner. Don't forget to reserve your spot now!  Due to lack of interest, (only one person signing up), we have cancelled the second week of summer camp.
Mixed-up Chameleons News-(Kindergarten Preparation Class)-Today we turned a Freaky Friday into a Fun Friday!  Since the bus accidently went to Terri's and was told the field trips was next week, which left us without transportation, we became very creative!  We headed off to Grove Park and had a blast on the playground, until Lads and Lassie's preschool showed up with an event, so not wanting to put a damper on their fun, we quietly ate lunch and headed on our way.  We ended up at Crescent park and then after a long talking to about manners and how to act in public places we went to the bakery.  Each preschool pal got to order what they wanted, and sit and eat with their pals.  We were told by the bakery staff that we were much better behaved than the seventh grade groups that had been visiting that day. 🙂  The preschool pals even starting cleaning the tables and picking trash up off the floors!  We then, literally, marched through town receiving lots of smiles and waves as we headed back to school.  It ended up being a spontaneous "field trip" that I think we will all remember!
Very Hungry Caterpillar and Very Busy Spider News-Since things were a little crazy this week, we decided to wait to do our unit on Yarns next week.  I was kind of happy, because this is my favorite unit of the school year!  Mandy, Susan, Kim, Sarah, Denise, and Cindy did lots of creative things with the preschool pals as well as worked on evaluating and testing.  On Thursday, I asked the preschool pals to fill me in on all that happened when I was gone.  Then, I filled them in on what I did while I was gone.  We had a short lesson on the heart and how it works.  We talked about the chambers and the arteries and how they can get clogged, etc.  I think by the end, we had a few preschool pals thinking if they may want to study to be surgeons someday. 🙂
Friday Enrichment Class: Today we took a "trip" to the beach.  The kids got to fill their beach buckets with sand and shells.  We also pretended to jump waves and make make whale sounds.  The kids also had a great time reading our books.  Next week, for our last Friday together we will tie-dye t-shirts!
Panda Bear News: We hope you enjoyed all of our art work – the kids worked hard on all of the their masterpieces!  This week we wrapped up our April unit and next week we will be starting our last unit of the year! This week we had a visit from our "y" puppet, which was a yak. We will be busy next week making a special Mother's day present. Have a great weekend.