Weekly Round-up-November 15th-23rd
Monday-Regular Classes
Tuesday-Regular Classes
Thursday-Regular Classes
Friday-Regular Classes and Top Dogs bring a square today!
Monday-Regular Classes
Tuesday-Regular Classes
Wednesday-Sunday-       No School-Thanksgiving Break
Monday-Regular Classes
Tuesday-Regular Classes-Bring in $1.00 for Santa's Workshop on Thursday!  All donations go to Valley Interfaith Food and Clothing.
Thursday-Regular Classes-Santa's Workshop for all classes!
Friday-Regular Classes and Top Dogs bring in a rectangle.
Playful Bunnies News:  The Bunnies had a fun and busy week. Jack the Jaguar introduced the letter J to us. We read two books about jam, "Jamberry" and "The Giant Jelly Sandwich."  Then we all got to pick which color of jam we'd like to paint – one day we painted with brushes and another day we fingerpainted. Some friends really liked the sensory experience of fingerpainting, but others were more unsure about it. We learned a fingerplay about picking berries and practiced putting pom pom "berries" onto baskets. During this activity, each Bunny worked on many skills –  naming colors, identifying the numbers 1-5, counting, and using small tongs to strengthen fine motor muscles. A fun new addition in our dramatic play room was the Ice Cream Parlor. The Bunnies have been taking orders (cone or bowl?), scooping tissue paper ice cream, adding chocolate sauce and cherries, and eating it with friends, of course! So fun! We also started a Construction/Transportation theme which we'll be continuing throughout the month. Our days are really so full and so fun!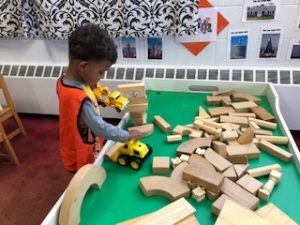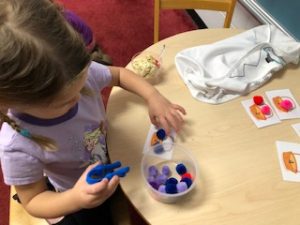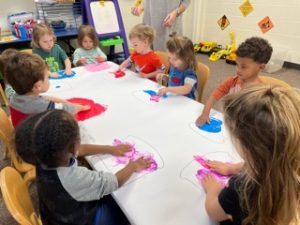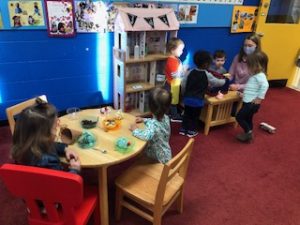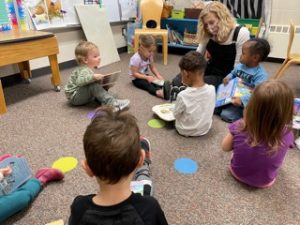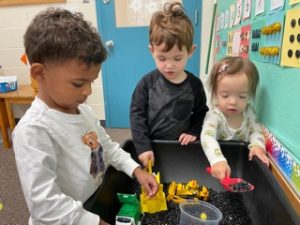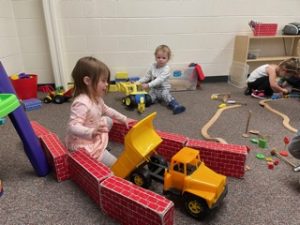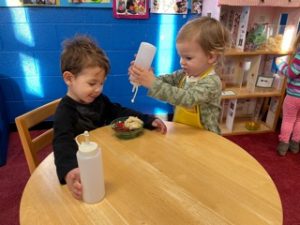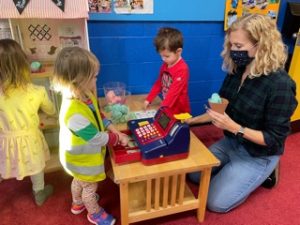 Cool Cats News:  We look forward to seeing all our Cool Cats on Monday!  
Top Dogs News:  J is for Jumbled Junk, Jello and Jellybean Jar!  This week we learned all about the letter J and the shape of a triangle.  We learned about Thanksgiving, Food Groups and continued learning about Autumn.