Weekly Round-up February 7th-11th 2022
Monday-Regular Classes and Quilt squares go home.
Tuesday-Regular Classes
Thursday-Regular Classes
Friday-Regular Classes and Valentine's day parties.  Bring your valentines!  Top Dogs bring a box you made to collect the valentines! No lunch needed; we will be set
Monday-No School
Tuesday-Regular Classes
Thursday-Regular Classes
Office News- Registration for the 2022/2023 preschool school year is now under way! If you know your plans for next year, we recommend registering soon to secure a spot for your child(ren). 🙂
Playful Bunnies Class News-Well, we had a couple of days of fun in-school learning this week. Continuing our zoo theme and the letter P, we made a penguin craft using the letter P and played with little zoo animals in playdough. We also used those small zoo animals to practice counting and one-to-one correspondence up to the number 5. Some of our younger bunnies had fun playing with and identifying/naming these animals and doing some zoo animal puzzles. Next week, we'll try identifying and sorting the animals by colors. With the cold and snowy weather, we've been spending extra time in the muscle room. We ride tricycles, scooters and cars, as well as, throw and kick balls, throw pretend snowballs, crawl through tunnels, build with big blocks, and play with the big toy trucks. Lots of fun and learning every day!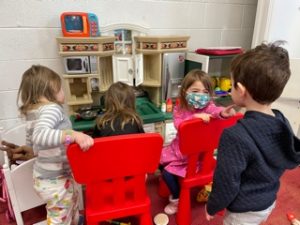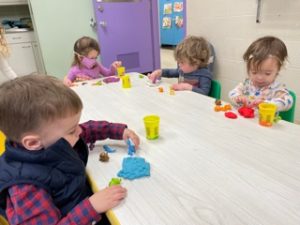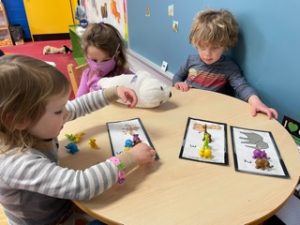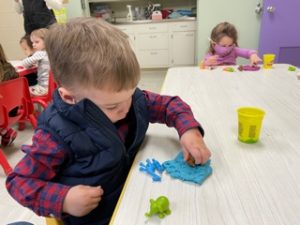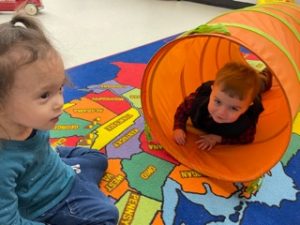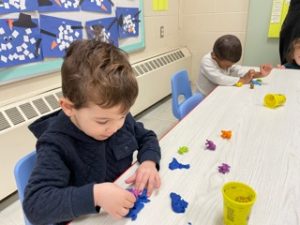 Cool Cats Class News-We extended our 'P' week to include making Pandas and Polar Bears during art. Our class had fun changing the calendar over to February and learning a song about all the months of the year. We continue to review the calendar, letters, letter sounds, shapes, numbers up to 15, and the weather every day at our first meeting time.  We also listen to a book to wrap up our time.  Your children love story time.  They are always quiet and engaged as books are read.   Mrs. Susan and Mrs. Kelly like to read simple non fiction books as well.  This week we read about Giant Pandas.  Every student had the opportunity to tell us something new and interesting they learned about Pandas.  We missed the students during our 2 snow days.   We hope you had some memorable adventures at home.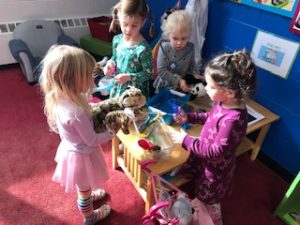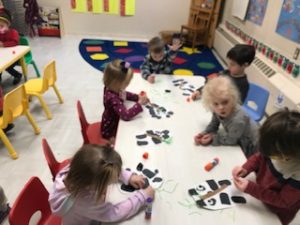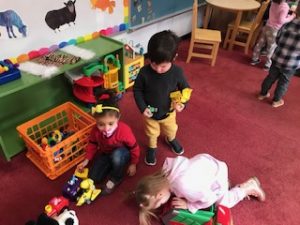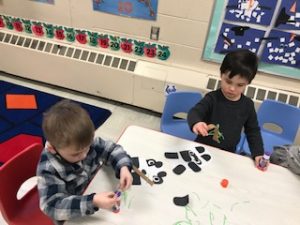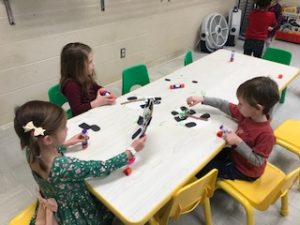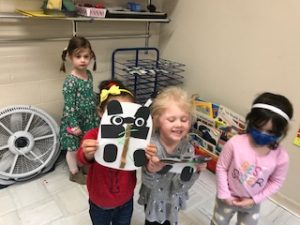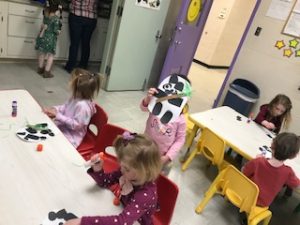 Top Dogs News:  This week we worked on rhyming words and patterning.  We met Mr. P, Pointy Patches the Party Planner, who is helping us get ready for our Valentine's Day party!  He brought us Popcorn, and Pink and Purple Paper to make party decorations.  We read the books "Popcorn" and "Pete the Cat's Perfect Pizza Party".