Weekly Round-up September 18th-22nd 2023
Monday-Regular Class Schedule
Tuesday-Regular Class Schedule-Top Dogs homework due.  
Thursday-Regular Class Schedule-Top Dogs new homework goes home.  
Friday-Regular Class Schedule and Top Dogs wear and bring something purple
PLAYFUL BUNNIES NEWS:   This week the bunnies had fun learning about the letter C and finishing up our unit on bugs. During craft, we made dragon flies, water color painted butterflies, we learned that butterfly wings are symmetrical and painted one half of a butterfly and folded it to see that both are the same! During circle time we met Cookie the Cow, read lots of books about bugs. One of our favorites was In the Tall, Tall Grass. During centers, we explored bugs in our own tall, tall grass. We have so much fun with our friends!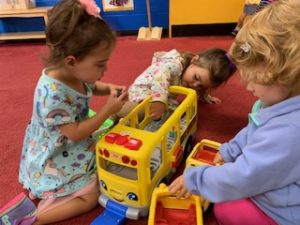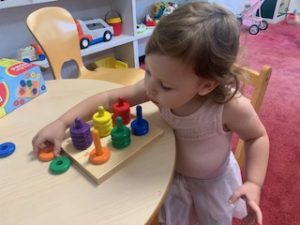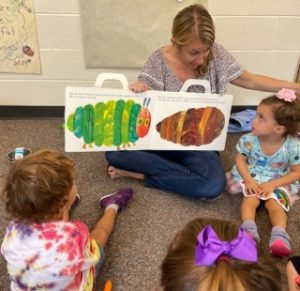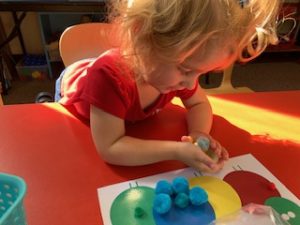 COOL CATS NEWS: The Cool Cats enjoyed learning about the letter 'D', especially because Donuts, Dragons, and Dinosaurs start with the letter 'D'.  We had fun reading books and doing crafts that start with the letter 'D', and enjoyed a yummy donut treat!  On Thursday the dinosaurs marched into our play dough time making footprints, imprints, and baby dinosaurs hatching from our play dough eggs.  

After large muscle play time we head into the classroom for our first meeting time at 10:30. Mrs. Susan sings the hello name song and each child gets to jump up when their written name is shown on the name cards.  Mrs. Susan goes over the calendar where we practice counting and learn the days of the week and the months of the year. The Cool Cats check the weather and report it each day.   Also, Mrs. Susan introduces the new letter, shape, and number of the week. Thursday is number day where we talk about all the different ways you see numbers written and counted. Each meeting time ends with a book that includes the letter of the week.  Meeting time is great practice for our students to learn to sit still, keep their hand to themselves, listen to the teacher, and focus on a book.  Later in the year we practice comprehension to see what the kids remember from the story or book that was just read.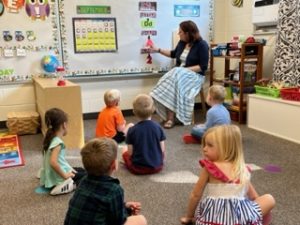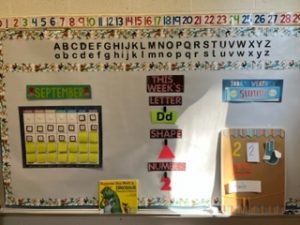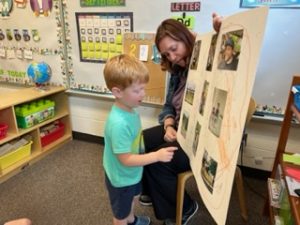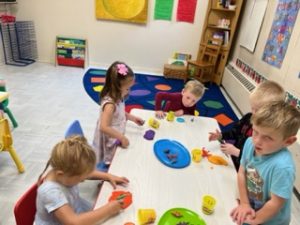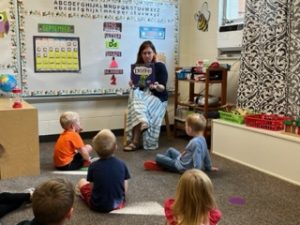 TOP DOGS NEWS:  This week we talked about how to be a good friend and read books about "Clark the Shark".  We continued to learn about the days of the week and read "Cookies Week".  We continued to work on the pledge of allegiance and learning about a morning routine.  Mr. Cotton Candy came to visit and brought us some goodies from the County Fair.  We learned all about the color green and Pete the Cat!  Another wonderful week of Preschool!