Weekly Round-up-April 3-April 11 2014
Monday, the 3rd-Welcome Back!  It's Pocket day!  Make sure to wear lots of pockets to school today!
Tuesday, the 4th–Regular class schedule and Button day!  Make sure to wear lots of buttons to school!
Thursday, April 6th-Regular class schedule and wear sunglasses for sunglasses day today!
Friday, April 7th-Regular class schedule and wear your favorite "fancy pants" today!
Preschool Office News:  (Mrs. Cindy)- We're still collecting bike-a-thon money!
Mixed-up Chameleons News-(Kindergarten Preparation Class)-What a great day to send us on our break!  We started in the muscle room "crafting thrones" with blocks. We headed to the rainbow rug for our daily curriculum activities.  We focussed on the letter "V" and concluded our unit on Vegetables by tasting a lot of vegetables!  Each preschool pal did a super job tasting broccoli, sugar snap peas, spinach, radishishes, and cucumbers.  We then ended with a little bit of fun and played some bean boozed!  Everyone pitched in to help with lunch and we ended our day outside.  We wish you a lovely spring break and look forward to seeing you on April 3rd!  By the way, we did talk about April Fool's Day, and since this class loves jokes, approriate ways to joke.  Rule #1, No hurting anyone physically, #2, No hurting anyone's feelings, and #3 it has to be funny!  🙂
Very Hungry Caterpillar and Very Busy Spider News-  "V" is for vegetable week!  This week we learned about different kinds of vegetables and how vegetables can keep us healthy.  We also talked about how things grow from seeds.  We continued to work on our daily goals and objectives, including rhyming words, estimating, calendar activities, geography and the Pledge of Allegiance.  We read lots of books about seeds and growing.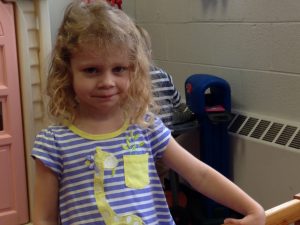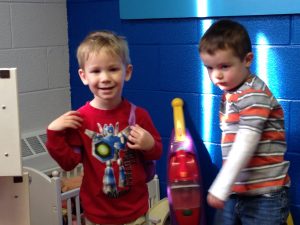 Friday Enrichment Class with Mrs. Susan: We have gotten to the final two letters of the alphabet!  With letter "Y" we used yellow yarn, talked about yelling and made a yak.  Since moving on to last names, we have been calling the kids by their last names just to get them used to what their name is since many do not know.  They have been enjoying this and find it very funny.  There is no school next week because of spring break!  When we come back, we will finish the alphabet then move on to seasons to finish the year.
Panda Bear News:  (Mrs. Denise & Mrs. Kim)-  The children have been learning about the letter V with Victor the Vulture.  There was a vest in our mystery box.  In art we put fluffy feathers on some chicks and created more masterpieces for the art show which will be held in mid April.   The kids are enjoying our new spring songs and are hoping to get outside and play with this warmer weather.