TOP DOGS! EXTRA! EXTRA! READ ALL ABOUT IT! Chip the Wonder Dog Cleans Up at Dog Dive!
This weekend while competing in a dock diving competition, Chip the Wonder dog, was a jumping machine!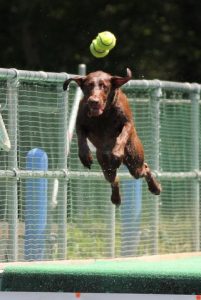 He participated in six jumps, called splashes, and ended up having 4 jumps that were personal bests!  His best jump of the weekend ended up being 23 feet and 3 inches.  Chip the wonder dog also ended up earning his Master Class Division Award.
This is Chip with his Junior Handlers, Mrs. Sandy's son's, Abe and Cal holding Chip's ribbon's from the weekend.  When they have Chip jump into the water they like to say "3, 2, 1, Blast off!"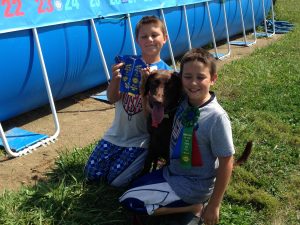 Don't forget to make great choices like Chip the Wonder Dog, Preschool Pals!