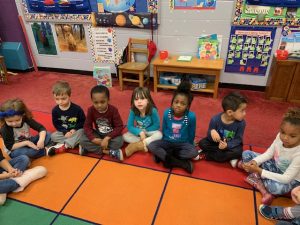 Preschoolers love to sing!  Singing is great for emotional expression, memorization and learning.  How many of the following songs do you know?
"Hush Little Baby"
"Pop Goes the Weasel"
"Did You Ever See a Lassie?"
"Are You Sleeping?"
"A Tisket, A Tasket"
"John Jacob Jingleheimer Schmidt"
"Five Little Ducks"
"I Know an Old Lady"
"Oh Where, Oh Where Has My Little Dog Gone?"
"You Are My Sunshine"
"Twinkle, Twinkle, Little Star"
"Rock-a-Bye, Baby"
"Do You Know the Muffin Man?"
"Row, Row, Row Your Boat"
"I'm a Little Teapot"
"Head, Shoulders, Knees and Toes"
"Looby Loo"
"Do Your Ears Hang Low?"
"Here We Go Round the Mulberry Bush"
"If You're Happy And You Know It"
"Bingo"
"The Wheels on the Bus"
"Old MacDonald".