To get out of the house, get some fresh air and some exercise, (and because there isn't anything else to do,) our family has been visiting different Cincinnati Parks.  Here are our thoughts on the one's we have visited so far.
Family Favorite-Caldwell Nature Preserve-Close by, nice and pretty manageable trails, wooded and an easily manageable creek.  You also may see a random Rooster!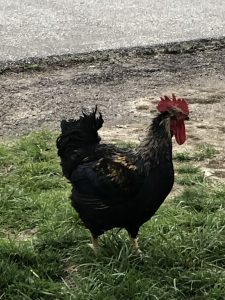 Abe's Favorite-Eden Park-Mirror lake, Krohn conservatory, the Art Museum and a great view of the city.
Cal's Favorite-Alms Park-Wooded trails and paved areas to walk, a great view of Lunken airport and we found a vine to swing on.
Tom's Favorite-LaBoiteaux Woods-Wooded trails, a creek with clay, and it feels like you have the woods to yourself.
My Favorite-French Park-Nice wooded paths that are pretty easy to navigate, a Creek, open green fields complete with a Manor House.
Honorable Mention-Ault Park-Beautiful!
Other parks-
Mt. Airy Forest-Nice trails but quite a few questionable characters.
Red Robin Hollow-Only one main path that is out and back.  Pretty crowded the day we went.